Renting villas in Bali is a popular choice for vacationers looking for a luxurious and private accommodation option for a vacation destination. Whether for holidays with family or holidays for new tourists, because the beauty of Bali's charm has always been the reason for tourists to keep coming to this island.
Bali Villas for Rent Havenland Bali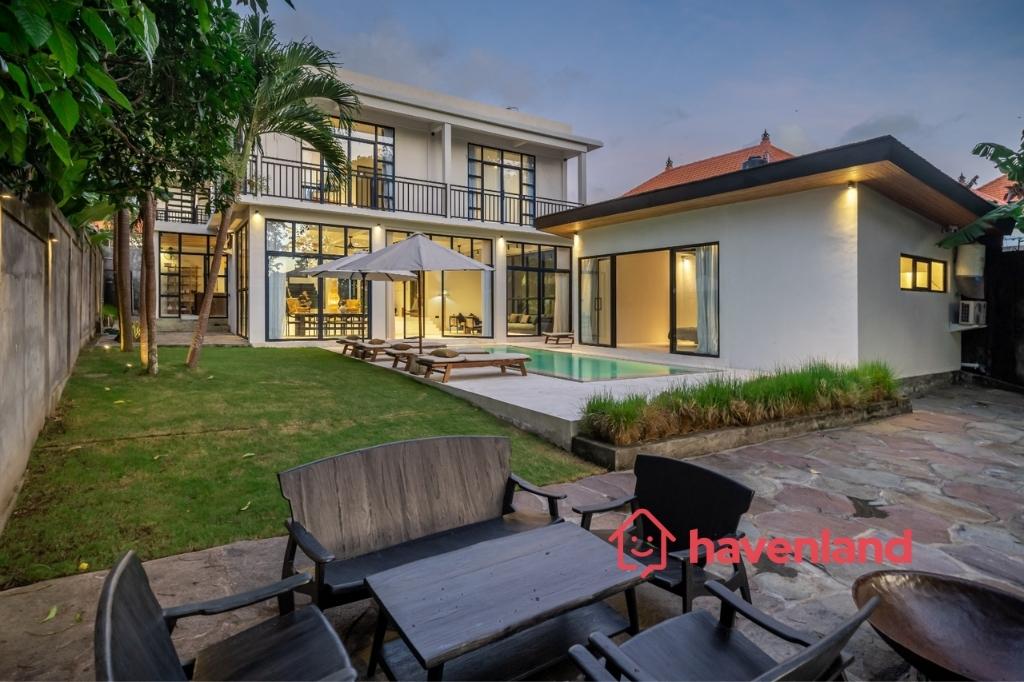 Choosing a villa rental in Bali has become a prevalent choice among travelers seeking lavish and exclusive accommodation options for their vacation. Whether it's a family getaway or an adventure for first-time visitors, the allure of Bali's beauty consistently draws tourists to this enchanting island. When it comes to finding the perfect place to stay, Havenland Property can be an exceptional option for finding your dream villa. 
Renting a villa at Havenland Property provides a more immersive experience into Balinese culture and lifestyle. Guests can request the design and location allowing them to connect with destinations in Bali.
The Havenland Property Experience
Havenland Property stands out as an exceptional choice for your Bali villa rental. Their commitment to providing a luxurious, immersive experience is second to none. Whether you're a returning visitor to Bali or setting foot on the island for the first time, a villa from Havenland Property is sure to create cherished memories and a deep appreciation for the Balinese way of life.
Long-Term Rentals for a Home Away from Home
For those looking for a more extended stay in Bali, Havenland Property offers long-term rental options, providing a home away from home. This is an excellent choice for digital nomads, expatriates, or anyone looking to experience Bali for an extended period. The long-term rentals offer the chance to fully integrate into the local community and truly embrace the Balinese way of life.

Benefits of Renting Villa at Havenland Property
Immersive Experience: Renting a villa at Havenland Property allows you to delve into the heart of Balinese culture and lifestyle. You can tailor the design and location of your villa to connect with the authentic essence of Bali.

Privacy and Serenity: Enjoy a serene retreat away from the hustle and bustle of crowded hotels. Villas at Havenland Property offer a private sanctuary where you can unwind and relax in your own secluded space.

Customized Stay: Guests have the flexibility to choose a villa that suits their preferences, whether it's a cozy one-bedroom retreat or a spacious villa for a family gathering. The ability to tailor your stay ensures a personalized and comfortable experience.

Luxurious Amenities: Havenland Property villas are equipped with luxurious amenities and modern conveniences to enhance your stay. From private pools and lush gardens to well-appointed kitchens and elegant furnishings, every detail is meticulously designed for your comfort.

Breathtaking Locations: The villas are strategically located in some of Bali's most picturesque areas, offering stunning views and easy access to the island's attractions. Whether you prefer the tranquility of Ubud or the vibrant energy of Seminyak, Havenland Property has a villa for you.
Tips for a Budget Friendly Villa Rental in Bali
Planning a vacation in Bali and considering renting a villa? Bali, with its enchanting landscapes and vibrant culture, is a popular tourist destination offering a range of accommodation options. One of the attractive choices is renting a villa, especially for larger groups or those seeking a more private and comfortable stay. In this guide, we'll discuss important tips to ensure you get the most out of your villa rental in Bali while keeping it budget friendly.
Calculating the Number of Members for Your Bali Getaway
Before booking a villa, carefully consider the number of people in your vacation group. Villas come in various sizes, accommodating different numbers of guests. It's essential to choose a villa that comfortably fits everyone, ensuring a pleasant and cost-effective stay. Renting a villa or a halfway house proves to be a more economical option, particularly for larger groups, offering freedom of movement and a comfortable sleeping experience for each member.
Familiarize Yourself with the Villa's Rules and Additional Charges
To avoid any unexpected surprises, take the time to understand the rules and regulations of the villa you plan to rent. Every rental property has its own set of guidelines regarding behavior, usage of amenities, and additional services. Be aware of any extra charges associated with services like cleaning and cooking, as these can significantly impact your budget. Knowing the rules in advance ensures a smooth and enjoyable stay for everyone.
Explore Guest Reviews to Make an Informed Decision
Guest reviews play a crucial role in assessing the quality of a villa rental. Before finalizing your choice, delve into reviews from previous guests to gain insights into their experiences. Recommendations from friends who have visited Bali can also be valuable. Additionally, online forums and blogs dedicated to travel often feature detailed reviews and discussions about various villas in Bali. Pay attention to feedback regarding service quality, cleanliness, amenities, and overall satisfaction to make an informed decision.
Discover Bali in Luxury and Style
Renting villa at Havenland Property opens the door to a world of luxury, comfort, and cultural immersion on the beautiful island of Bali. Experience the magic of this tropical paradise while enjoying the exclusivity and personalized service that come with a private villa. Book your Havenland Property villa now and embark on a journey of discovery and relaxation in Bali's embrace.