Looking for the best property investment opportunities in Bali? Look no further than Havenland Property. Our Bali Villas for Sale offer the perfect blend of luxury, comfort, and business potential in the millennial era embracing the idea of planning for the future, Havenland presents an ideal investment with numerous advantages and guaranteed facilities.
Advantages of Luxury Villa in Bali
Best and Guaranteed Facilities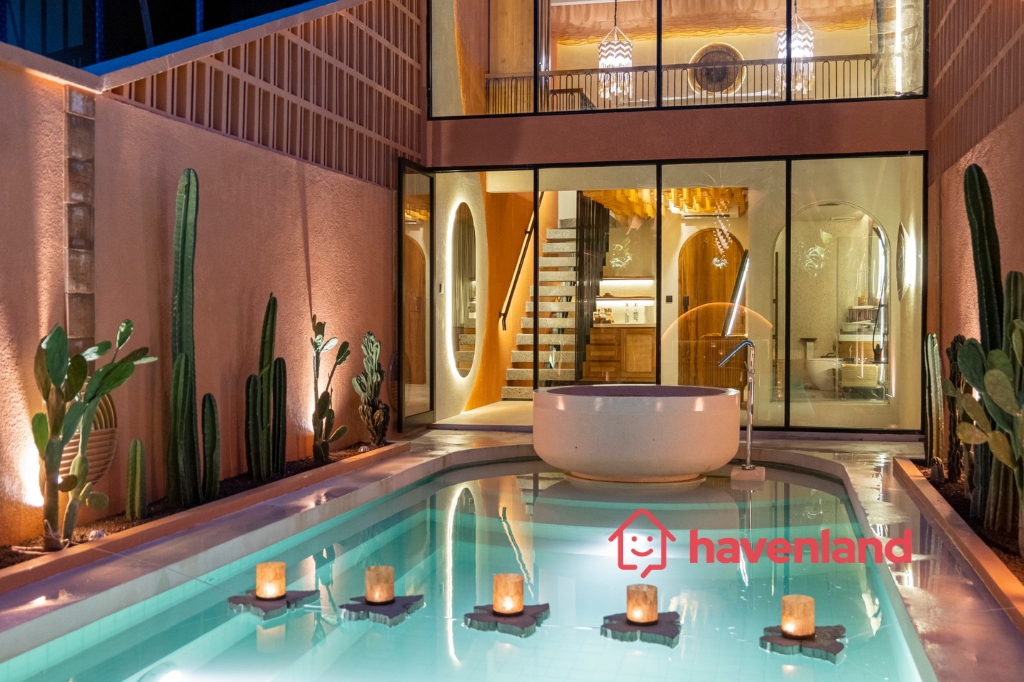 Havenland Property offers a range of luxurious villas with top-notch facilities, including fully equipped kitchens and private swimming pools. These amenities are carefully designed to provide the utmost comfort and convenience for residents and guests alike. There are lots of facilities that you can enjoy when you buy a villa in Bali. One such facility is a kitchen facility or a private swimming pool. These various facilities certainly require extra care when you intend to rent them out again.
There are many types of facilities that you can rely on, one of which is a very complete kitchen. Other facilities that can be enjoyed are very beautiful and amazing views. You can enjoy this view when you decide to buy a luxury villa that is perfect for being the best and most comfortable home.
A luxurious villa will certainly be on par with the budget you spend later. So, you have to prepare correctly about the contents of your wallet when deciding to rent or buy a luxury villa.
Leasehold villa for sale Bali does it save on vacation costs?
Save on Vacation Expenses
Having your own villa makes it easier for you to stop over if you are somewhere. Especially when we are places that are usually used as family tourist destinations. That way, you don't need to bother looking for lodging places such as hotels or villas to stay temporarily.
If you have more capital, of course you can build several villas at once. Having more than one pillar in different areas will be very beneficial and make it easier for you. By doing business buying and selling villas, of course it will provide multiple benefits because it is not only used for personal purposes.
Villas can certainly easily maintain the stability of wealth values. Property is something that must be owned by you when you want to make an investment. It would be much better if you add property insurance on the property.
Does the freehold villa for sale Bali have inflation protection?
 
Villa Sale and Purchase Protection Against Inflation
Villa is a property that can protect you from inflation. The villa manager also believes that the investment value will not decrease even though the currency value will continue to fall every time. This happens because of the scarcity of the villa itself. So that the investment value will continue to increase over time.
As we know, villa ownership can be collateral or collateral that is difficult to get a loan. Please note that Villa will continue to rise and is not affected by inflation, even though the value of the currency continues to decrease every year.
In some countries, banks will also not worry about lending funds up to 70-85% of the collateral value. These are things you have to consider, when you want to borrow money, then you can rely on the villa's money.
Big Benefits of Buying Beachfront villa for sale Bali

Advantages of Buying a Villa
Buying a villa reaps enormous benefits, because it's not only from business. Because, by buying a villa, you can follow the land trend. The trend of land prices is of course increasingly creeping up. By having your own villa, of course, the rental price will be higher. If the rental price is higher, the profit from buying and selling the villa will double. This of course will make you have enormous profits and can be enjoyed in the long term.
Can you rent Bali Villa for sale freehold?
Easy to Rent
As we already know, property investment requires knowledge so that you don't choose the wrong property product. A promising property investment option is a villa, especially if you buy a villa in an area that is crowded with tourists. Villas are a very appropriate choice as well as an attractive stopover for many families on vacation.
Buying a villa is very profitable because it is considered suitable as a place to relax and unwind after busy activities. The first advantage of buying Bali Villa for Sale is that the Villa is very easy to rent.
The villa business has a long-lasting character, so you can rent out villas and get income from the business. Buying a villa is certainly more profitable than buying deposits or gold. Even though you do need money to care for the villa, such as maintaining cleanliness.
Join the Havenland Property community today and unlock the potential of Bali's real estate market. Whether you are a savvy investor or seeking a dream vacation home, Havenland Property offers the perfect solution for your needs. Embrace the future of real estate with Havenland Property and experience the benefits of owning a villa in Bali firsthand.