If you're looking for a luxurious and breathtaking experience in Bali, Beachfront Villas Bali and Villa Bali with Private pool  is the place to be. These villas offer an unparalleled level of luxury and a mesmerizing view of the ocean. Picture yourself unwinding in the comfort of your own villa while gazing out at the glistening Beach or Indian Ocean right before your eyes. To help you make an informed decision, read on for some insightful reviews about Beachfront Villas Bali. Whether you're planning a romantic getaway, a family vacation, or a solo adventure, these villas promise an unforgettable experience in Bali. 
What are the Top Beachfront Villas
Bali and Private Pool?
Best choices beachfront villas with private pools in Bali, consider visiting their checking reputable travel and booking at Havenland Property for potential offers and options.
Most Popular Bali Villas by Havenland

The first view that will make you fall in love from this villa is the infinity pool facing the ocean. It's almost impossible if you manage to resist the temptation not to soak in this one villa. This luxury place to stay is located in Nusa Dua, Jimbaran, especially near Nusa Dua beach,  a 7 minute drive to Bali Golf & Country Club, Green Bowl beach which promises quality comfort. 
Villa Miracle has the perfect Beachfront Villa with Private Pool choice for those seeking a luxurious and spacious villa in a trendy and convenient location. Whether you're traveling with family or friends, this villa offers a memorable and the perfect retreat for your Bali experience.
Villa Mocca is a stunning  and spacious 6-bedroom villa located in Canggu, Bali. Designed with style and elegance by a Dutch interior designer, this villa offers a luxurious and  family-friendly establishment featuring a private pool, bowling alley, and a range of restaurants in the heart of Canggu.
Villa Mocca is situated in the trendy Canggu neighborhood, specifically in the Berawa area. It is part of a community of villas, ensuring a secure and peaceful environment for guests. The villa is just a five-minute drive away from Berawa surf beach, where you can enjoy the beautiful beach club scene. Additionally, there are plenty of excellent restaurants and Cafes nearby, offering a variety of culinary experiences. Villa Mocca in Canggu is the perfect choice for those seeking a luxurious and spacious villa in a trendy and convenient location. Whether you're traveling with family or friends, this villa offers a memorable and enjoyable stay in Bali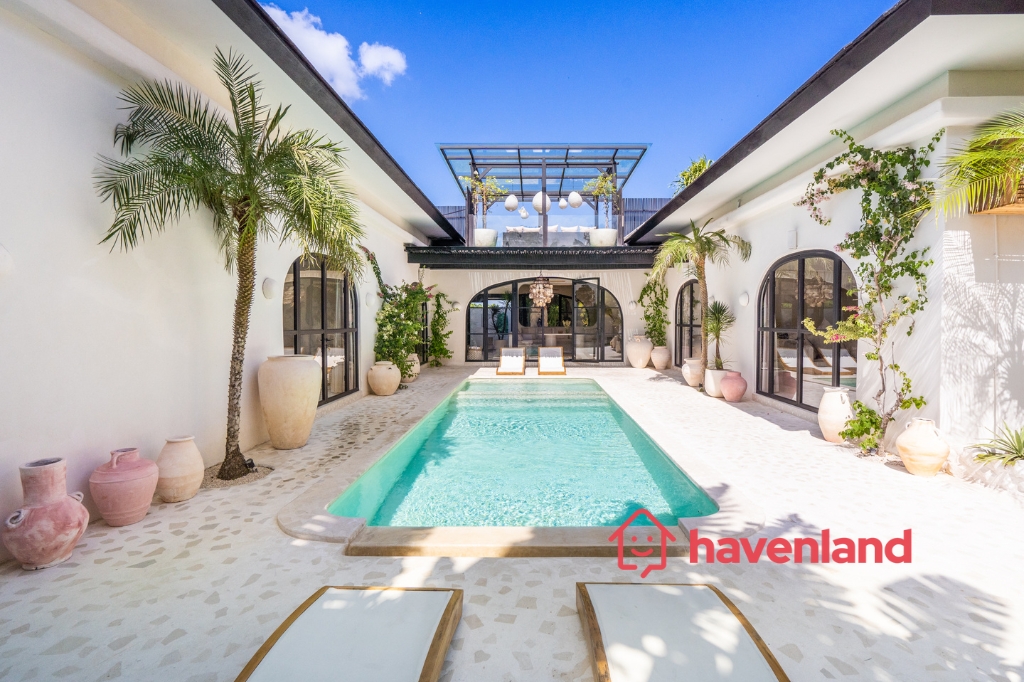 Imagine Villa is a spacious modern 4-bedroom villa with ensuite bathrooms, ideally located in the serene area of Canggu. This villa is designed for luxury and relaxation, featuring a large pool area and a Rooftop Entertainment Area with stunning views over the Rice Paddies. Guests at Imagine Villa can enjoy the comfort of a private pool and stay connected with free WiFi. This villa is 3.7 miles from Petitenget Temple and 8.1 miles from Ubung Bus Station. This air-conditioned villa is equipped with 4 bedrooms, a flat-screen TV, and a kitchen. Berawa Beach is 1.9 miles from the villa, while Nelayan Beach is 1.9 miles away. The nearest airport is Ngurah Rai International Airport, 9.2 miles from Imagine Villa.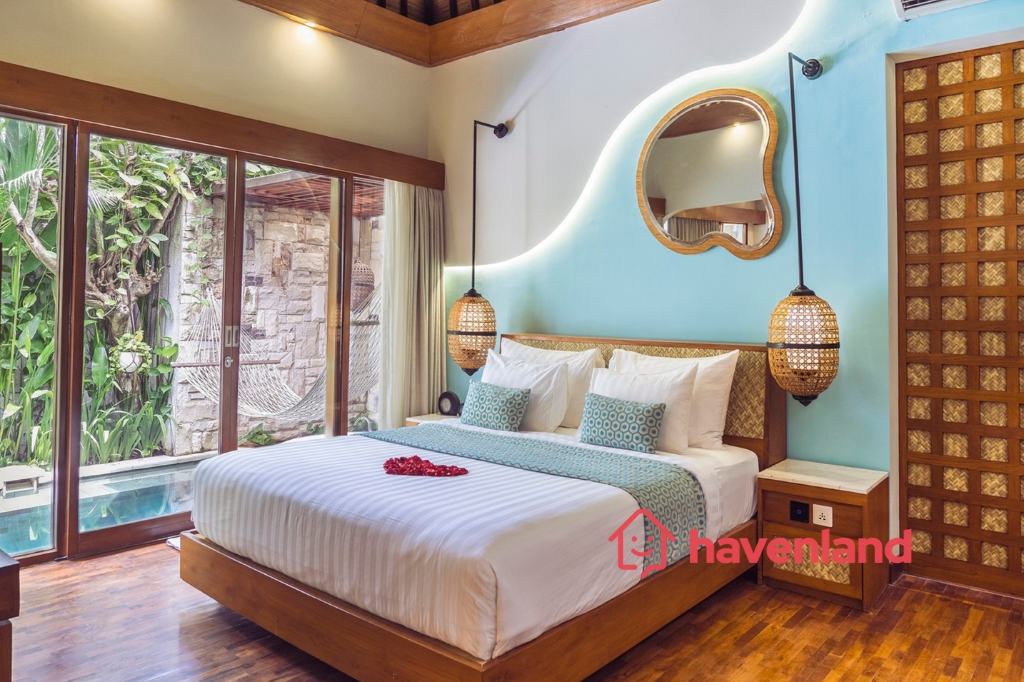 Aksari Villa Seminyak was meticulously crafted to provide an idyllic and romantic haven for honeymooners seeking intimate moments in the heart of Bali. Our exquisite One Bedroom Villas boast private pools and bathtubs, enhanced by our signature facilities and services, ensuring an unforgettable experience.
Nestled in the tranquil area of Seminyak, our resort enjoys a prime location, only a 30-minute drive from the bustling I Gusti Ngurah Rai International Airport. Nearby, you'll find a plethora of enticing attractions, including charming restaurants, vibrant art markets, the famed Double Six Beach, and the iconic Potato Head Beach Club, all within easy reach to create cherished memories during your stay in Bali
Bali Beachfront Villa with Private Pool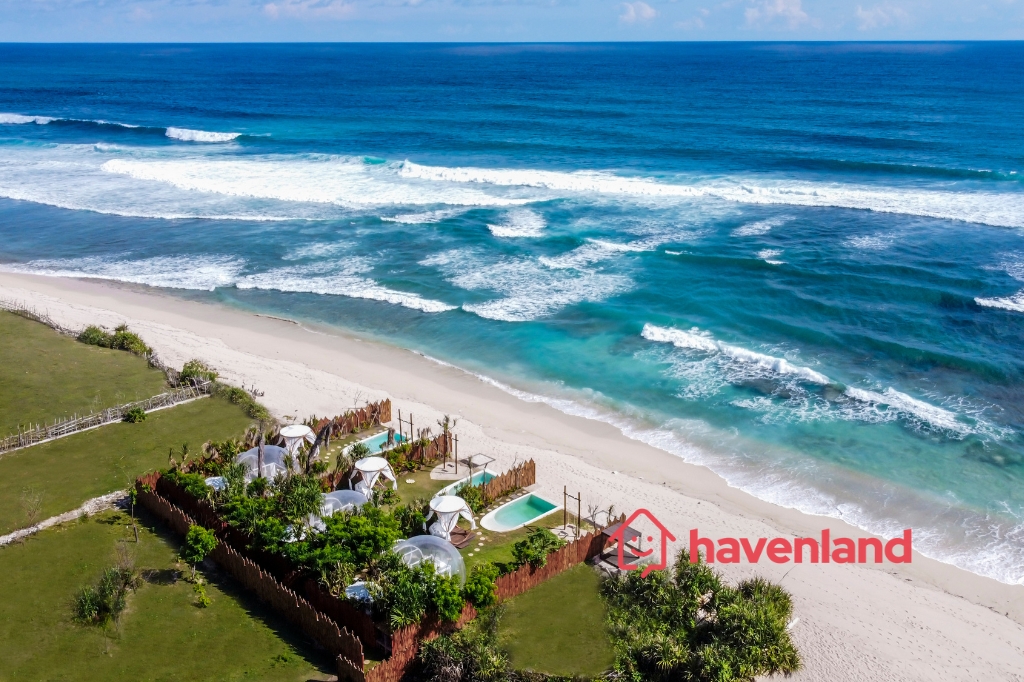 Bubble Ocean Villa is a villa directly opposite Uluwatu Beach. offers a unique and glamorous camping experience, situated between the lush jungle and the mesmerizing Indian Ocean. The beach at Bubble Ocean Bali is incredibly secluded, providing a tranquil and private getaway with the enchanting beauty of Bubble Ocean Bali while indulging in the luxury and serenity of Bubble Ocean Villa.
Inside the bubble, you'll find modern amenities, including electricity for charging you. This villa is also surrounded by a romantic tropical garden and private pool with the beach view.
Four Seasons Jimbaran
When you have celebrated a birthday or are planning a romantic vacation, then you can choose the most suitable place to spend time together, namely for the Jimbaran season. This place doesn't only have a private swimming pool, because you can also swim to enjoy the day while looking at the endless and cradled Blue Sea.
These elegant and luxurious suites are built with an ethnic feel to create an exotic and authentic ambiance. This place also offers a variety of activities for honeymooners, from dinner and private pit in the Villa to breakfast in bed.
On cool nights, you can also curl up together in bed and open the window. You can also soak together with your partner in a very vintage rock with an atmosphere, you can also spend a romantic atmosphere by visiting the Sundara Beach Club four Seasons.
Hidden Hills Villas
Hidden Hills Villas is a secret romantic hideaway, this villa provides the ideal privacy for lovebirds who want to stay overnight. The resort also consists of 5 luxurious private apartments, each of which has its own private swimming pool, and beautiful gardens. You can also observe the sunset every time you come from bed.
Please note that each villa must have its own characteristics which are inspired by different cultures. In order to reflect cultural diversity, design elements from around the world are used here.
You can feel the winning mix of white and blue transporting you to Santorini, which has the same name. Villa Santorini is a bright and spacious villa, this villa also has a king size luxury bed overlooking the ocean. So that every time you wake up, you can take advantage of the time to enjoy the view of the ocean every day.
That is what can be explained in this article regarding complete information about Bali's Best Beachfront Villas and Private Pools. For those of you who are curious and want to know all about this information, you can read the reviews in this article in full.